I have to start off by asking a question...
Do you use token economies in your classrooms? Pa-lease let me know...
I found this way cute idea and now I have NO idea where it came from. So again, if it's yours, please let me know so I can give credit where credit is due!
It's called "Honey Points". It goes along with the bee theme. Each kiddo has a cute little paper taped to their desk with a honey jar. Each time they are caught doing something great, they get a tally. At least, that's how I am playing it.
As a class, we came up with a GREAT list of rewards, such as:
*extra computer time
*get a special email to their parents telling them how great their kiddo is
*play a game with their favorite teacher
There are a TOOOOOON more.
So, I'm wondering how many "honey points" each thing should cost. I just started yesterday (Tuesday) and some kids have 3-4 points already. What do y'all think?
Any and all input is appreciated!
Thanks!
Marcy
Also, I have to mention some AWESOME giveaways in the bloggy world:
Jennifer, at
Herding Kats in Kindergarten
, is having a 250 follower giveaway!
Hadar, at
Miss Kindergarten
, is having a February Goodies Giveaway!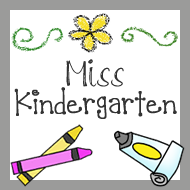 Robynn and SueBeth, at
Busy Bees
(love the name, by the way), are having a Valentine Giveaway!